# ROS (1) via ROS 2 Bridge (User Guide)
This topic explains how use ROS (1) with PX4, by bridging via ROS 2.
It provides an overview of the ROS-ROS2-PX4 architecture, along with instructions on how to install all the needed software and build ROS (1) applications. It also covers how to run/setup ROS 2 and ROS 1 workspaces at the same time.
# Overview
The application pipeline for ROS (1) bridged over ROS 2 is shown below.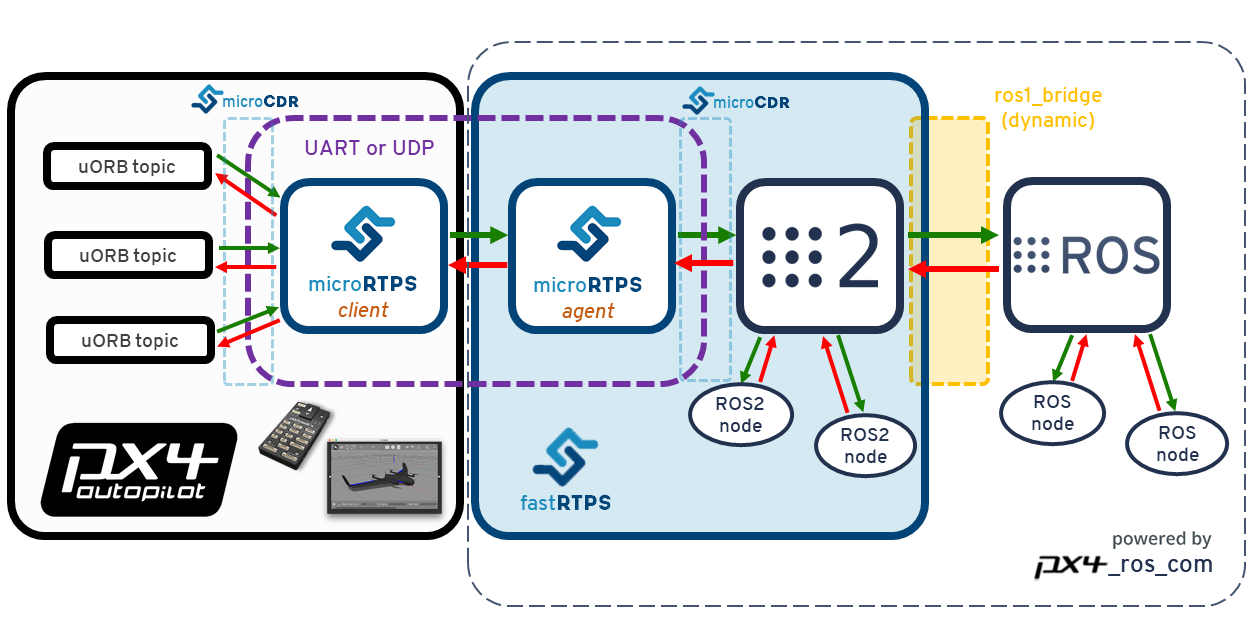 Essentially it is the same as for ROS 2, except that there is an additional ros1_bridge (opens new window) package (by Open Robotics) that translates messages between the two versions. This is needed because the original version of ROS does not support RTPS.
The other main difference is that the px4_ros_com and px4_msgs packages a separate ros1 branch that generates the ROS message headers and source files for using with the ros1_bridge. This branch also includes example listener and advertiser nodes.
# Installation & Setup
Follow the instructions in ROS 2 User Guide > Installation & Setup to install ROS 2.
# Build ROS (1) Workspace
Since the ROS requires a different environments from ROS to you will need to create a separate workspace. This will include the ros branch of px4_ros_com and px4_msgs, along with the ros1_bridge.
To create and build the workspace:
Create the ROS 1 workspace directory using:

$ 

mkdir

 -p ~/px4_ros_com_ros1/src


Clone the ROS 1 bridge packages px4_ros_com and px4_msgs to the /src directory (the ros1 branch):

$ 

git

 clone https://github.com/PX4/px4_ros_com.git ~/px4_ros_com_ros1/src/px4_ros_com -b ros1 

# clones the 'ros1' branch


$ 

git

 clone https://github.com/PX4/px4_msgs.git ~/px4_ros_com_ros1/src/px4_msgs -b ros1


Use the build_ros1_bridge.bash script to build the ROS workspace (including px4_ros_com, px4_msgs, and ros1_bridge).

$ 

git

 checkout ros1
$ 

cd

 scripts
$ 

source

 build_ros1_bridge.bash

# Creating a ROS (1) listener
Since the creation of ROS nodes is a well known and documented process, we are going to leave this section out from this guide, and you can find an example of a ROS listener for sensor_combined messages the ros1 branch of the px4_ros_com repository, under the following path src/listeners/.