Pomegranate Systems Power Module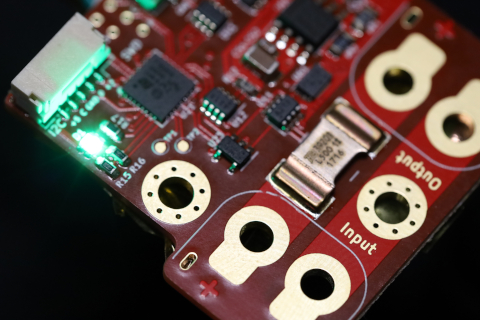 Digital Power Module with high resolution current integration, 5V/2A supply with power monitoring, single UAVCAN v0 CANbus interface, and an RGB status LED.
Detailed setup, configuration, and troubleshooting information can be found on the manufacturer's device home page.
Specifications
Input Voltage: 6-26V (2-6S)
Max Continuous Current:

Benchtop: 40A
Forced Cooling: 100A

Max 5V Output Current: 2A
Voltage Resolution: 0.04 ΔV
Current Resolution:

Primary / Battery Bus: 0.02 ΔA
5V bus: 0.001 ΔA

CANbus Termination: Electronic (on by default)
MCU: STM32 F302K8U
Firmware: Open Source
Electrical Interface:

Power: Solder pads or XT60PW (right angle, board-mounted connectors)
CANbus Dual JST GH-4 (standard UAVCAN micro-connector)
I2C / Serial: JST GH-5
5V Output: Solder pads or CANbus / I2C connectors

Device Mass:

Without Connectors: 9g
With XT60PW Connectors: 16g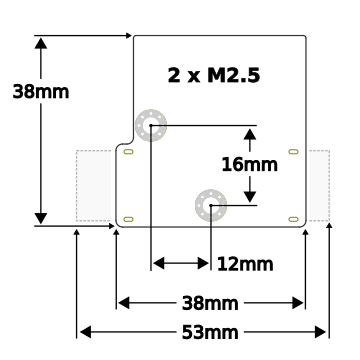 Configuration
Enable UAVCAN by setting the UAVCAN_ENABLE parameter to 2 (Sensors Automatic Config) or 3.
Set the following module parameters using the Mavlink console:

Battery capacity in mAh: battery_capacity_mAh
Battery voltage when full: battery_full_V,
Battery voltage when empty: battery_empty_V
Turn on current integration: enable_current_track
(optional) Turn Off CANbus termination resistor :enable_can_term
Example: A Power Module with UAVCAN node id 125 connected to a 3S LiPo with capacity of 5000mAh can be configured with the following commands:
uavcan param set 125 battery_capacity_mAh 5000
uavcan param set 125 battery_full_V 12.5
uavcan param set 125 battery_empty_V 11.2
uavcan param set 125 enable_current_track 1
uavcan param save 125

See device configuration page for a full list of parameters.